How Does a Constant Torque Spring Work
Constant torque spring is one kind of constant force spring. This torque spring is rewound to the output wheel (energy storage) when an external force is applied. When the external force is removed, the spring will return to its natural state, and the output wheel will generate (release) a constant torque (stored constant force).
When Caiyin factory produces the constant torque springs, the selection of the raw materials is very strict. Usually, materials with high elastic modulus, high yield strength, good corrosion resistance and thermal stability are selected, such as carbon steel and stainless steel. Welcome to customize your constant torque springs.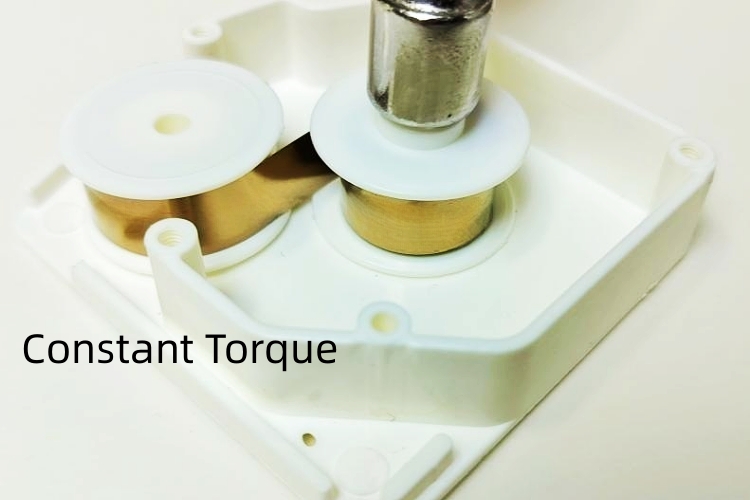 The features of constant torque springs:
1. Constant force: Compared with compression springs or tension springs, the elastic force of constant torque springs is very constant, and can output almost linear elastic force, ensuring that the product will not change due to changes in elastic force during use .
2. High precision: The constant torque spring has high precision and is suitable for application scenarios that require high precision control.
3. Compact and lightweight: Due to their compact size and light weight, constant torque springs can save space and reduce overall weight in many applications.
4. Good load stability: The constant torque spring can effectively balance the external load and maintain the stability of the load, which is crucial for many applications.
Constant torque springs have a wide range of applications. In the field of aerospace, constant torque springs can be used in control mechanisms, dampers, etc.; in the automotive field, they can be used in suspension systems, steering systems, and braking systems; in the mechanical field, they can be used in adjustment mechanisms, dampers, and buffers; In the field of home furnishing, it can be used in the fields of cordless roller blinds (plus inner chain); in the field of electronics, it can be used in pressure sensors, etc.; In these applications, the main function of the constant torque spring is to provide a stable torque to achieve energy conversion and load stability.